Greetings, Loyal Reader!
I have never participated in National Novel Writing Month. I've always been either too busy on some other project to take it on. But this year, I decided to finally do NaNoWriMo…in my own way.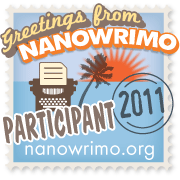 I'm not writing a brand new novel this month, and not racing to turn blank pages into 50,000 words. Instead, I'm piggybacking on NaNoWriMo to make my final drive to complete Noble Cause.
My plan is to revise the manuscript during November and use the revised text for my NaNoWriMo word count as I go.  Loyal Readers can read along! I am releasing the revised chapters as a free preview as part of the Smashwords National Novel Writing Month promotion.
Chapter 1 and 2 of Noble Cause are posted now! These chapters are not entirely new material–I posted an earlier version as a preview last spring–but we'll be getting into all-new, never-before-released text pretty soon. I invite you to download the free preview, check back for frequent updates, and let me know what you think either in the comments here at JasonCosmo.com or on Facebook.
I hope you enjoy Noble Cause!
Best regards,
Dan McGirt