Greetings, Loyal Reader!
A quick note to let you know that the Trove Books Kindle edition of JASON COSMO is now available at Amazon.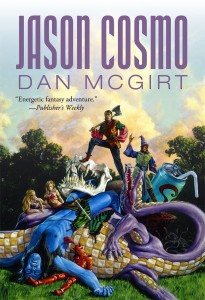 To remind you, this is an ebook of the original text of JASON COSMO, as first published in 1989 (with minor corrections).  HERO WANTED is the revised version of this book. So if you've read one, you don't need to read the other. Unless you want to. In which case, please do. I don't mind anyone reading both the old and new versions of this book, but I don't want anyone to buy JASON COSMO thinking it is a brand new story. Not a mistake longtime Loyal Readers are likely to make, but newer readers may be confused. So I hope to dispel confusion here.
Again — JASON COSMO, original version. HERO WANTED, new version.
Read both if you want, but please read responsibly!
Best regards,
Dan McGirt