Greetings, Loyal Reader!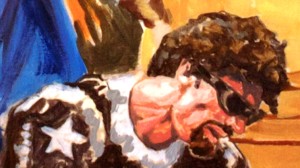 As we countdown to the release of Jason Cosmo: Royal  Crush on December 5, I am assembling the pieces of the book, including a critical component — the cover!
Yesterday I received the cover art image. I'm not going to reveal it in full until the title has been added to make it a proper cover, but I want to share this sneak peek, a close-up of our fearless wizard, Mercury Boltblaster!
I also want to introduce the newest Jason Cosmo cover artist: award-winning illustrator and sculptor Mighty Mark Helwig. Mark joins the ranks of Richard Hescox, Josh Kirby, and Den Beauvais in providing covers for the Jason Cosmo saga. Mark give us his interpretation of a pivotal scene in Royal Crush, which I will share in all its glory when the final cover is ready.
Mark displays a quirky, sly, and slightly demented sense of humor in his work (and has a disturbing affinity for Cthulhu). I thought it would be fun to get Mark's take on Jason Cosmo and company.  Stay tuned for the full cover soon!
Best regards,
Dan McGirt
PS:  You can see more of Mark Helwig's work at his website: Mark Helwig Art and Sculpture and on his Facebook Page: The Art of Mark A. Helwig – Facebook Page. Check it out!