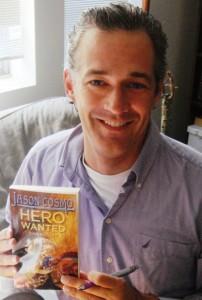 DAN MCGIRT is the author of the Jason Cosmo fantasy adventure series, beginning with Hero Wanted and Noble Cause. His previous books include the classic Jason Cosmo Non-Trilogy: Jason Cosmo,
Royal Chaos
and Dirty Work
.
Other published stories include:
Dan is also Chief Apologist of the oft-neglected Apology Index blog, which comments on public apologies.
Hobbies away from the keyboard include hiking, whitewater kayaking, exploring old cemeteries, horseback riding, and building homemade time machines.
Dan is a member of Science Fiction & Fantasy Writers of America (SFWA) and Novelists, Inc (NINC). He is also a member of the National Geographic Society (for the magazine) and the American Automobile Association (for the free towing, which he uses more often than you might imagine.)
Twitter: @JasonCosmo