Dan McGirt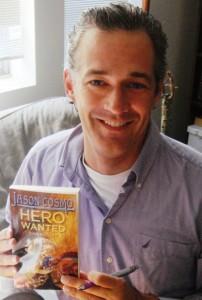 DAN MCGIRT is the author of the Jason Cosmo fantasy adventure series, beginning with Hero Wanted. His previous books include the original Jason Cosmo Non-Trilogy: Jason Cosmo,
Royal Chaos
and Dirty Work
.
Other published stories include:
Dan is also Chief Apologist of the oft-neglected Apology Index blog, which comments on public apologies.
He was named Time Person of the Year in 2006. (It's true! Look it up!)
Hobbies away from the keyboard include hiking, whitewater kayaking, exploring old cemeteries, horseback riding, and building homemade time machines.
Dan is a member of Science Fiction & Fantasy Writers of America (SFWA), Novelists, Inc (NINC) and Sisters in Crime.  He is also a member of the National Geographic Society (for the magazine) and the American Automobile Association (for the free towing, which he uses more often than you might imagine.)
Twitter: @JasonCosmo