A different, but related, adventure begins!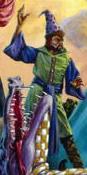 I love writing Mercury Boltblaster.  He is older, wiser, and far more experienced–and cynical–than Jason Cosmo. It is obvious that Merc had many adventures prior to his fateful meeting with Jason at that juice bar in Whiteswab.
Boltblaster will tell Merc's tale from the beginning. It will be book one of a planned Boltblaster trilogy, followed by Boltblaster Returns and Boltblaster's Revenge.
You can read a draft of the Prologue and Chapter 1 of Boltblaster here.
And here is the Mercury Boltblaster entry in the Cosmopedia.