The adventure continues some more!
Buy it here: Dirty Work
Download it here: Dirty Work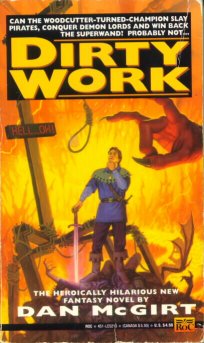 Publication History
Dirty Work was first published by Roc in January 1993. Dirty Work was originally slated for a 1991 release. Unfortunately, Your Author was, for various and sundry reasons, late finishing the book, which led to a delayed release. The original cover price was $4.50. Cover art by Den Beauvais.
Front Cover Text (1993 edition):
Can the woodcutter-turned-Champion slay pirates, conquer Demon Lords and win back the Superwand? Probably not…
The heroically hilarious new fantasy novel by Dan McGirt
Back Cover Text
RETIREMENT JUST WASN'T WHAT IT WAS CRACKED UP TO BE–
especially when no one would take your retirement seriously. Still, Jason Cosmo, the ex-woodcutter now known as the Mighty Champion, was sick of being an invincible hero. All he wanted to do was turn in his magic armor and his loyal, demon-slaying sword, his sun goddess medallion and his secret decoder ring–and, of course, his Heroes Club charge card–and settle down someplace quiet to raise turnips. But rumor had it that the Superwand, the "ultimate implement of power," had just come back into the world, and no one but Jason stood a chance of finding it and pitching it out of the universe again before the arch Demon Lord got hold of it. So, despite the ongoing distractions of persistent assassins, lesser demons, and murderous magicians, Jason and his soon-to-be sorceress love set out on an impossible quest that would take them from noble courts to pirate dens to the very gateway of Hell….