The adventure continues!
Ebook edition
Paperback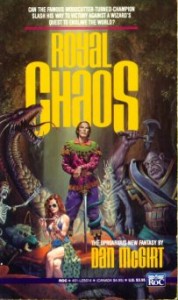 Publishing History:
Royal Chaos was my second book, a sequel to Jason Cosmo.  It was originally published by Roc in June, 1990. Roc was the then-new fantasy and science fiction imprint of Signet and Royal Chaos was one of debut titles for the new imprint. Exciting stuff to a young author! The cover price was $3.95.
Front Cover Text (1990 edition):
Can the famous woodcutter-turned-champion slash his way to victory against a wizard's quest to enslave the world?
The uproarious new fantasy by Dan McGirt
Back Cover Text:
By Spunk or by Spells
Milling amid the happy crowds of the Eleven Kingdoms, Jason Cosmo, most-feared man in the realm, is sure the Royal Wedding between his best friend, Mercury Boltblaster, and beautiful Queen Raella will go off without a hitch. Jason may be fabulous at wielding his enchanted sword Overwhelm, but he's absolutely stinko at foretelling the future. An assassin's crossbow bolt is about to pierce the blushing bride and catapult the world into a war of black magic and mayhem. Merc is determined to fight alone against the slayer of his queen (if he can find the dastardly son of a witch). But suddenly he's facing an army of ogres led by the ugliest hag he's ever seen! And it's Jason Cosmo who must again prove his mettle as Champion–in a rollicking adventure that tests the power of true love and an invincible heart…