Greetings, Loyal Reader!
As promised some time ago, I finally scanned in the cover of the United Kingdom edition of Jason Cosmo, published by Pan Books, Ltd. and featuring an awesome cover by the late Josh Kirby.  This is the edition most likely to be familiar to Loyal Readers outside the U.S. and Canada.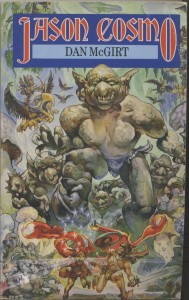 As you can see, Mr. Kirby took a very different approach than that of Richard Hescox on the U.S. edition. I love the crazy, kinetic, cartoony energy of this illustration! It captures the feel of the book very well, in my opinion.
Kirby here depicts a scene from the story, in which Jason Cosmo and Mercury Boltblaster flee for their lives through the Incredibly Dark Forest. (Truth be told, Kirby has conflated two scenes — our heroes' encounter with ogres soon after they enter the forest, and a later showdown with an army of other foes. But we won't quibble.)
The big guy wearing a loincloth and waving the shining sword is Jason. Not quite how I pictured our hero — he looks more like a Conan the Barbarian type here. But the look of sheer terror is dead-on.
Mercury Boltblaster, in red, with robe trailing behind him and sunshades blasting, is perfect!
The ogres are suitably scary. I did not know that ogres wore boots. I wonder where they get them in size 70?
The fellows mounted on flying gryphons are the Black Bolts. Here it looks like the one in front might be coming to Jason and Merc's rescue. But I doubt it!
Kirby remembered the giant mushrooms too. What's the Incredibly Dark Forest without giant mushrooms?
I have posted a larger scan here so you can get a closer look at the details of this excellent illustration.
Best regards,
Dan McGirt