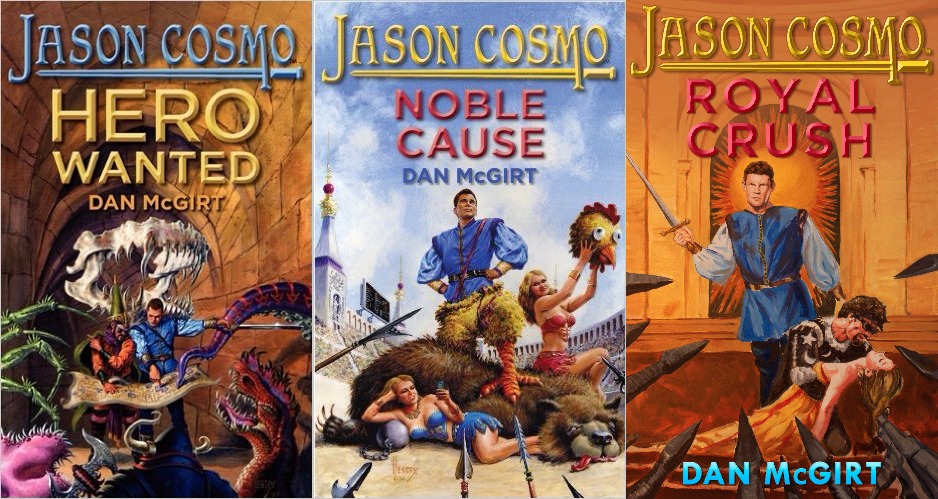 Greetings, Loyal Reader!
Happy Star Wars Eve!
With Royal Crush launched it is time to talk about what comes next. But first – a big thank you to all the Loyal Readers who have bought Royal Crush in the first two weeks. I hope you're enjoying the story – please let me know in the comments, (or at Dan McGirt Facebook Page or Twitter).
Also, please let other readers around the world know what you think by posting a review at your favorite online retailer. Reviews really help the books be more visible at Amazon, etc. and I appreciate you taking the time, whether you give one star or five.
The title of this post gives you the titles of the next two novels set in the Cosmoverse: Boltblaster and Jason Cosmo: Dirty Deeds. I'll give you a brief on each now and we'll discuss them in more depth in the months to come.
Boltblaster
Boltblaster is the long-promised prequel/spinoff detailing the early years of our favorite cranky wizard, Mercury Boltblaster. It is the next Cosmoverse novel I will write, and the first to not star Jason Cosmo himself.
Some writers rush through their books in a mere five or six years – looking at you George R.R. Martin. But I take my time and do it right. My oldest notes on Boltblaster date to 1991, after I finished Dirty Work. I wrote the prologue and chapter 1 around the same time.1 And then I let the story age to perfection, like a fine whisky or exceptionally ripe cheese. Well, the time has come at last — I've already started writing chapter 2, and the rest of the book is pretty thoroughly mapped out. All I have to do now is finish it! Planned for Summer 2016.
Dirty Deeds
Book 4 of the main Jason Cosmo series will be Dirty Deeds. Old school Loyal Readers who read the classic Non-Trilogy may infer that this will be a revision of the original Dirty Work. You are only partially correct. While Hero Wanted and Royal Crush pretty closely tracked the plots of their predecessor books, Jason Cosmo and Royal Chaos respectively, Dirty Deeds will diverge more strikingly from what I wrote the first time around. I'll discuss the hows and whys of that in a future post. For now, just know that there will be pirates. Lots of pirates. Planned for Late 2016.
Jason Cosmo Tales
Have you read Rainy Daze yet? If not, please do check it out. Rainy Daze is a novella set between chapters of Hero Wanted, and is the first of what I am now calling the "Jason Cosmo Tales" – shorter stories set in the world of Jason Cosmo. The careful reader of Hero Wanted will notice a few other narrative lacunae where I may fit in future novellas or short stories. Ditto for Noble Cause and Royal Crush. There will also be stories set between books and perhaps side stories involving secondary characters or entirely new characters in the Cosmoverse. Jason Cosmo Tales are not on any set schedule. (Boltblaster is the first priority!) But stay tuned…
That's the overview of what's coming in the Cosmoverse for the next year. As always, thanks for reading!
Best regards,
Dan McGirt
Early drafts of both are posted elsewhere on this site. Hunt for them if you wish. [↩]