Greetings, Loyal Reader!
A quick note to let you know that the Jason Cosmo novella Rainy Daze is now available on the iBooks from Apple and at the Amazon Kindle Store.
This story — first released in 2009 at Smashwords — is set between the early chapters of Hero Wanted and can be read along with, before, or after that book, or enjoyed on its own. I updated the file, refreshed the cover, and put Rainy Daze in wider distribution as part of my preparation for the launch of Royal Crush on December 5.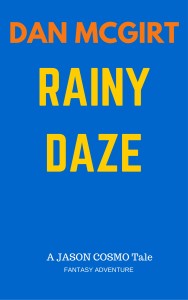 I'm calling Rainy Daze a "Jason Cosmo Tale," which will be the tag for shorter-than-a-novel Jason Cosmo stories set between or during gaps in narrative of the main novels. I've got ideas for a few more Jason Cosmo Tales but for now my priority is getting Royal Crush ready. I'll discuss future books (and tales) after December 5.
In the meantime, if you haven't yet read Rainy Daze, please check it out. If you have already read it and enjoyed it, and can take a moment to post a review at your favorite retailer, I'd appreciate it.
Best regards,
Dan McGirt