Greetings, Loyal Reader!
I have exciting news. The audiodrama adaptation of Jason Cosmo: Hero Wanted has begun at The Drama Pod! Click that link and have a listen now. Episode 1 is about 16 minutes … perfect for your iPod while you commute, jog, go to the gym, do the dishes, whatever. (But please do NOT listen while operating heavy machinery or performing surgery of any kind!)
Have you listened? No?  Go listen now! I'm about to discuss the episode …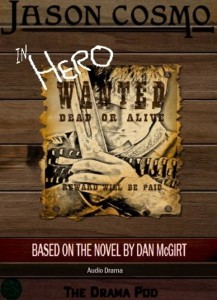 Back? Great! Wasn't that fun? I love The Drama Pod!
Loyal Reader Tim Heffernan is an impresario of audiodrama. Some while back he inquired about adapting the Jason Cosmo story into an audioplay and I said "Sure, that would be awesome!"
So off Tim went to adapt my text into a script, cast the parts and do his producing magic. The results, I think, are fantastic. The voices in my head couldn't have performed it better and you really do feel you're there in the Festering Wart Tavern that fateful night in Lower Hicksnittle when it all began.
Matthew J Boudreau perfectly capture the slightly dismayed "Are you kidding me?" tone of our hero Jason Cosmo as his peaceful life is turned inside out.
Domien De Groot gives us a suitably self-impressed Lombardo the Magnificent (and, rumor has it, will take on the role of Mercury Boltblaster in subsequent episodes)
Mike Hanson as The Narrator provides a bravura prologue to set the scene.
Winifred Henson gives voice to the sneaky henchman Guido. If only I'd known, I'd have given Guido more lines! But I'm sure we'll hear more from Mr. Henson if this crazy train keeps rolling.
Jason's less-than-loyal fellow Hicksnittlers are Burlo by Graeme Dunlop, Derbo by Marlon Dance-Hooi, Godfrey played by Paul Danger McClean and Ames by Kevin Powe. A fantastic ensemble that really capture the fickle cluelessness of the Hicksnittler. (Er … that IS meant as a compliment. Really.)
If you click and go take a look at the bios of the cast you'll see these are serious world-class voice actors. It is literally an all-star cast and they're doing this production just for fun! It really has nothing to do with me … except that I'm incredibly lucky to have talented Loyal Readers like Tim, who enjoys the Jason Cosmo story and has the amazing ability to produce such a show!
Tim adapted the text into an audioscript, set up the artwork, and produced and edited.
The music is by The Snow Queen, Hidden Agenda, Sneaky Snitch, Batty MacFaddin, and Ghostpocalypse by Kevin McCloud from Incompetech.
So that's my gushing review of Jason Cosmo in Hero Wanted Episode 1 by The Drama Pod.  Five and a half stars and a "Bravo! Bravo!" to all the cast and a heartfelt thank you to Tim Heffernan for making it happen.
Episode 2 is in the works.  If you enjoyed Episode 1 — and want to hear more! — please send Tim and the gang a note (and download all their great shows!) at The Drama Pod, on Facebook, or via Twitter at @TheDramaPod.
And now I think I'll go listen to it again …
Best regards,
Dan McGirt