Greetings, Loyal Reader!
If you haven't read my Really Big Announcement at DanMcGirt.com go check that out first, because I don't want to repeat myself here.
Back?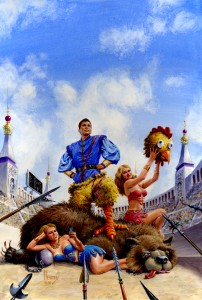 Great! I hope you're as excited as I am (though I doubt it!). So what does this mean for the Jason Cosmo series?
It means things will be moving faster, and new stories will be coming your way sooner! (Which, I realize, is not a very high bar, but that's what we want to change.)
When I relaunched the series with Hero Wanted in 2009, I have every intention of writing at least one new Jason Cosmo book a year, maybe two. That proved overly optimistic.
It took me until early 2012 to finish Noble Cause — at which point I was temporarily burned out and not quite ready to start Royal Crush.
Slow going. Frustratingly slow — for me, and for you too.
But now we have a new start looming to my writing efforts, a singularity event on the horizon.
As I mentioned at my other blog, there are many stories I want to tell. You may want to read them, you may not. I know some Loyal Readers enjoy my Jason Cosmo stories and aren't so into other things I've published. That's cool — so long as somebody likes a story, I'm happy. I don't expect everyone to love everything I write.
But this is the Jason Cosmo Update, so let's get to updating.
First things first — I'm currently finishing up a short media tie-in novel connected to a fantasy computer game property. Unfortunately, I can't reveal any details yet, as it is not my announcement to make. I will say that although it is not a Jason Cosmo book, it is a story Jason's fans are likely to enjoy.
Once this Secret Project is wrapped up, I will jump back into Royal Crush. My goal is to release Royal Crush by September. When that is done, my next Cosmoverse book will be the long-awaited Boltblaster (A book which has been on the drawing board since at least 1990. I know.)
After Boltblaster, I pivot back to the main series with the revision of Dirty Work. I don't have exact dates on those releases, but both will be out by mid-2014. Along the way, I'll release a few shorter Jason Cosmo stories, set between the main books (or even between chapters of the main books, in the style of Rainy Daze).
After that? Well, it depends. Since writing and publishing books will now be my job, the market will decide (or at least very strongly influence) what I write. If sales of the Jason Cosmo series continue to grow, I'll keep writing them.
I love writing Jason Cosmo stories. I appreciate the Loyal Readers who love reading them. I believe the series can find a large enough audience to sustain the series until the full epic story is told.
Releasing more books faster will help. With only a couple of books in the series and two or three years between new releases, some readers lose interest, forget, or just wander off in search of  other entertainment. Consistent delivery of new episodes will help me earn and keep new readers — and reward the long-suffering patience of the current Loyal Readers I am fortunate enough to have! (You're still here, right? … Whew! You had me going for a second there.)
At some point in 2014, I will have released Jason Cosmo books #1-#4, plus Boltblaster, plus a few mini-novels and shorts. At that point, I believe the series will have enough momentum to find its readership and for me to keep it going.
If not … well, let's burn that bridge when we come to it!
So there you have it: the road ahead for our favorite turnip farmer-turned-Champion. I've got some exciting stories planned and I can't wait to share them with you!
As always, thank you for reading!
Best,
Dan McGirt