Greetings, Loyal Reader!
Happy 2013! I trust you enjoyed the holiday season. Before I go on, thank you for your support in 2012. It was the best year for sales of the Jason Cosmo books so far, and I also appreciate the positive reviews, comments, and other messages I received from many of you last year.
Later this year, I will — at last — publish the next book in the Jason Cosmo series, Royal Crush.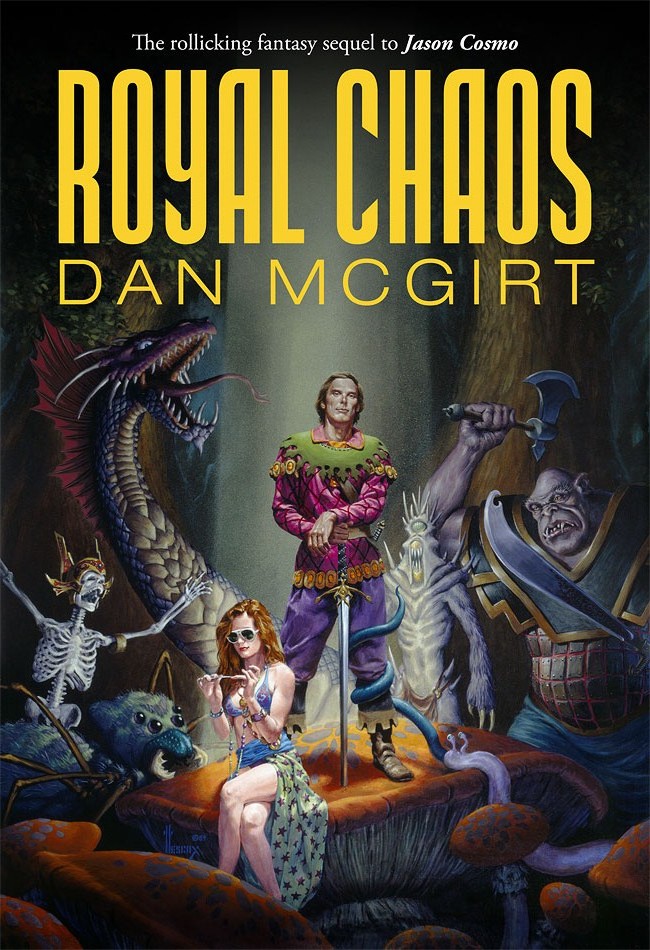 I do not have a definite release  date yet, in part because there is another fantasy novel I have contracted to write, a tie-in to a computer game franchise. I will give more details about that when I am able. It will, however, be a short book, and I should be done writing it before spring arrives here in the Northern Hemisphere. So let's skip ahead to Royal Crush.
Royal Crush will be the revised version of my second book, Royal Chaos (1990). In the classic Non-Trilogy, Royal Chaos was the original sequel to Jason Cosmo. The action picks up a few months after Jason arrives in Caratha at the end of his first adventure. In the original version, the time between the two books was largely uneventful. Jason has spent his time touring Caratha, carousing with Sapphrina and Rubis, and facing off against the occasional bounty hunter. But otherwise the period between books was uneventful.
In the relaunched series, Hero Wanted is followed by the events of  Noble Cause. So straight off, we've got a slightly different Jason, with a bit more adventure experience under his belt than his counterpart had in Royal Chaos. I point this out to emphasize that Royal Crush won't be exactly the same as Royal Chaos — else why write it? As I have noted before, Hero Wanted diverged a little bit from its original incarnation, Jason Cosmo. Royal Crush will diverge a bit more from Royal Chaos.  And when I take up the revised Dirty Work, it will diverge even more. (By the way, if you have an English essay or term paper to write, compare and contrast the originals with the revisions. Great topic, huh? You're welcome!)
So what else can I tell you about Royal Crush right now? At least this:
The basic story will remain the same in Royal Chaos. So if you've read Royal Chaos, the overall plot will be familiar.
As with Hero Wanted, I will be reviewing and revising the text line by line. So the writing will, I hope, be better, to the extent I am a better writer in 2013 than I was in 1989.
Royal Crush will include new text, dialogue, characters, and possibly new chapters. There will possibly be a new twist or two. I don't know for sure, because I don't know what I will write until I write it.
Royal Crush will recognize the events of Hero Wanted and Noble Cause having happened and will also include hints and details foreshadowing or helping set up future books — the revised Dirty Work and other volumes past that.
Again, I can't say much more than that, because even I don't know what I will write until I actually write it!
I've already made a couple of quick skims through Royal Chaos as I begin its transmogrification into Royal Crush. This past weekend I began my first line-by-line pass, working through  about half  of Chapter 1. I've already added a few small details that will pay off in another story on another day. I'm going to enjoy writing this book. I hope you will enjoy the result when it is finished.
As always, thank you for reading!
Best regards,
Dan McGirt